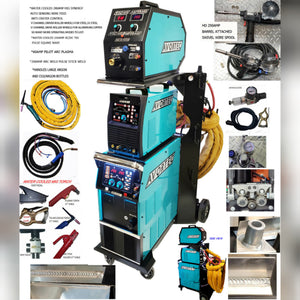 AVORTEC
Multiple function AV12X+ ARC/PLASMA/AC/DC TIG/MIG most complete system
Regular price
$7,599.00
$0.00
THIS IS ALL YOU NEED!
5 YEARS WARRANTY!
AVORTEC AV12X+ 
The most complete system in the market! 220V,single phase,AC/DC TIG250,Synergy double Pulse MIG280,60A plasma cutter,water cooled MIG and TIG,double tank holder. MIG spool gun, line feeder,stud welder (optional)all in one system! Price right and quality you expect and deserve!
ARC/PLASMA/AC/DC TIG/MIG all in one most complete system!
Double tank holder.
Contents Include:
AVORTEC AV12X+ TIG/ARC/PLASMA/MIG welder;       
TIG torch, water cooled;
Plasma cable;
Arc welding clamp;
Ground clamp;
Foot pedal control with top end adjustment;
Argon flow regulator-2pcs;
3-way valve;
air regulator;
water cooler system;
air or water cooled thumb amperage controlled TIG torch;
cutting guide;
MIG line feed system;
MIG spool gun;
MIG line feed torch;
Tungsten;
Welding helmet.
EXTENSION CABLE BUILD UP TO 50FT
OPTIONAL: TIG LINE FEEDER/MINI FLEX HEAD TIG TORCH(WATER COOLED)/stud welder.
Contact us find one system works best for you.
Customerservice@avortec.com
877-640-3131
---