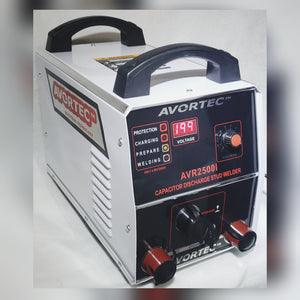 AVORTEC
Stud welder AVR3000 single phase 220V
Regular price
$2,900.00
Sale price
$3,200.00
AVORTEC- AVR3000 stud WELDER
Welds stainless steel studs any lengths
Welds aluminum studs any lengths
Welds steel studs any lengths
Welds copper.dent puller studs
Welds studs up to 3MM TO 10MM
WELDS AME STUDS 1/8" 3/16" 1/4" 5/16" + studs AND studs in between these sizes  
Come with assortment of stud chucks for all the sizes listed above.  
==RAPID FIRE HIGH OUT PUT STUD WELDER  !! AVORTEC LIGHT TO HEAVY DUTY THREADED STUD WELDING MACHINE *INCLUDES :  STUD GUN CABLE==GROUND CLAMPS HAVE C-CLAMP GROUND CLAMPS *THIS IS A EXTREME MACHINE THAT'S BUILT RIGHT TO LAST A DECADE AND MORE !! *USES== TRUCKS, CARS, HVAC, AIR PLANES, 4X4'S, RACE CAR BODY PANELS, ROCK CRAWLERS, CUSTOM SNOWMOBILES, ATV'S ,CUSTOM MOTORCYCLES, CONSTRUCTION, INDUSTRIAL KITCHEN MANUFACTURING CABINETRY-TABLES, ECT., METAL BOXES, METAL FABRICATION OF ALL KINDS, FIBERGLASS SEEMS STRENGTHENING, METAL BUILDINGS CONSTRUCTION, MANUFACTURING PLANTS ASSEMBLY LINES, FURNITURE METAL- METAL AND WOOD COMBINATION. ECT, ECT. INDUSTRIAL STRENGTH | PROFESSIONAL GRADE | DIGITAL SERIES --- THIS AVR3000 PROFESSIONAL STUD GUN IS HIGHLY ADVANCED HIGH TECH MACHINE. BUILT FOR LONG LIFE AND RELIABILITY THAT'S NEEDED IN TODAY'S WORLD OF COMPETITORS THROUGH AWAY MACHINES, WE MADE THIS MACHINE TO ENDURE A DECADE OF HEAVY DAILY USE AT A EXTREMELY AFFORDABLE PRICE .IF BOUGHT COMPARABLE COMPETITORS MODELS YOU WOULD HAVE TO PAY UPWARDS OF 4500.00 TO 9200.00 , We have taken the middle men out the equation to give our customers a better machine at a lower price that lasts . 
*Power Supply - 220V/30A Power Supply. 220V/Single Phase. *Requires 40 Amp circuit breaker. WILL WORK ON A 40 AMP - DROP CHORDS SHOULD BE 10-3 TO 8-3 WIRE SIZE, UP TO A 100' LENGTH WHEN NEEDED TO OPERATE FURTHER AWAY FROM YOUR WALL PLUG IN. CONSULT LOCAL ELECTRICIAN FOR WIRING CODES IN YOUR AREA ALWAYS TO BE SAFE. Outperforms ALL standard 110V STUD GUNS . We have tested other manufacturers 110 STUD GUNS and found they do not perform on standard 110/20 Amp circuits. A 220V/30 40Amp circuit breaker is recommended to perform as specified. The AVORTEC Advanced Power Technology stud guns ,tig welders and plasma cutter represents a leap forward in metal fabrication equipment. With digital controls for accurate spot stud welds on a broad range of materials every time you will increase your productivity and quality on everything you spot stud weld.
Power Cable 220V with 220V/40A Plug assortment OF STUD BARRELS TO FIT 1/8"  3-MM TO 8-MM, 5/16" STUDS + BARREL REMOVE AND REPLACE TOOL User Manual SHIPPING WEIGHT IS 70 LBS. ANY QUESTIONS GIVE US A call at 877-640-3131 NEW and in the box. Warranty 5 Year AVORTEC Manufacturer Warranty.
We engineer these to be the best and stand behind our products. Shipping Shipped UPS Ground For Easy Tracking. We ship with UPS for low cost and reliable easy tracking. Email us at CUSTOMERSERVICE@AVORTEC.COM for more information or global shipping options. About AVORTEC Avortec advanced power technology products utilize top quality materials, and high tech materials. We design, engineer and test all our products. All of our brand name products are NEW, competitively priced, and conveniently shipped direct to your home or business.
picture is only for reference.
---