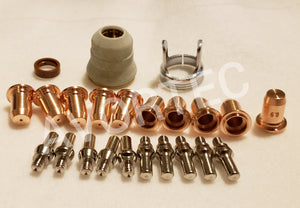 AVORTEC
Plasma consumables 23pcs nozzles,tips for IPT60,IPT40,IPT25
Regular price
$43.00
$45.00
PT25/40/60 or IPT25/40/60 size 0.8,0.9,1.0,1.1,1.2 mix or match size tips,Nozzles for IPT60, IPT40,IPT25 Plasma torch,good quality.
Option 1:
20pcs (10 inner 10 outer).
Option 2 :
23pcs (10 inner 10 outer,1 swirl ring,1 barrel, 1 stand off guide clip.)
mix or match different size tips,please feel free to contact us support@avortec.com or leave a note for how many of each size you would like to order.
---